Some friends and I are setting up a computer lab in an elementary school in Huajuapan de Leon, Mexico. You can read about our project on a new blog I set up. I'll write there about what distribution, software, and hardware we end up using. (And if you have an old but not outdated computer lying around, we'd love to have it for the kids!)
I thought I'd share here how the project came about, as I get asked that a lot.
When One Laptop Per Child came out, I thought it would be really cool to set up a school here in the US with a sister school somewhere else. My dad said he could work out the Mexico part, but then OLPC had distribution problems, our one computer took months to get to us and I decided to wait. I must have mentioned the idea at SCALE last year because I met Dan Anderson there, a high school computer science teacher in Los Angeles. He wrote his email address on a piece of paper and told me he'd be very interested in helping.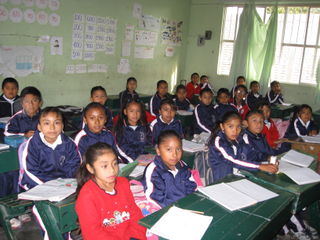 Then, luckily for the project, Dan followed up with an email a few months ago. It was perfect timing – my parents had moved to Huajuapan de Leon just a few months before. I said, hold on, I think we can make this work. I then waited impatiently for my dad to call me (he calls me with Skype.) Dad checked in with his friend Blanca, a high school teacher, and they found an elementary school that was perfect. The school "18 de Marzo" has primarily Mixtec students and they were really anxious for computers. The parents and teachers had chipped in and build a room for computers but then the computers had never come. The students have no access to computers at home or at school and aren't well prepared for using them when they get to middle school or high school. Most of them don't graduate from high school. (The school doesn't even have a phone line at the moment. No air conditioning either.) At the same time, I called my friend Ragavan Srinivasan who I'd been talking to about this type of project for a while. We've since been joined by several others like Alex Mayorga Adame (and I'm excited to have another person translate while we're there) and my friend Serena Robb who knows the world of non-profits and social services well. Arthur Langham, one of my college friends, sent us our first computer donation and since then we've got a few others. We're looking for at least 20 computers with hopefully some laptops for the teachers.
Christian Einfeldt has given us a lot of info on his experience setting up free and open source computers in a school and has done intros to a lot of others.
So that's how it all got started. Hopefully we'll be shipping computers down in April (we have a customs free way to get them to the school system – just need money for shipping) and we'll all head down in June to set up the lab. School will still be going on in Huajuapan so we'll get to meet the teachers and students. Then the plan is to repeat it all next year with another school!
(So if you have an old but not outdated computer, we'll take it! Send me an email at stormyscorner at gmail dot com and I'll send you info.)