Last Saturday Mario had a tamale making party at his house. (And I've been told that officially it should be tamal singular and tamales plural but I think in English it's now officially or unofficially tamale in singular.)
About 20 people showed up to help make tamales. Most of us novice cooks but expert tamale consumers, and ready to learn all about tamale making.
First, Mario mixed the masa in a commercial size kitchen aid that made Frank jealous.
He claims he uses the recipe on the back of the corn flour bag, but I'm here to tell you that he randomly adds lard, baking soda and chicken broth. They turned out awesome, but I'd be afraid to try it at home.
This what the masa looked like when done. And no, none of the tequila went into the masa.
Then we formed two assembly lines and got a quick lesson. First the masa on the corn husks. Mario pointed out that in previous years people have put a lot of masa on the corn husks and that means the tamales take hours and hours to cook. I think people took it to the other extreme – I got a few tamales that were mostly meat! (Still yummy!)
Two lines, one on each side of the table: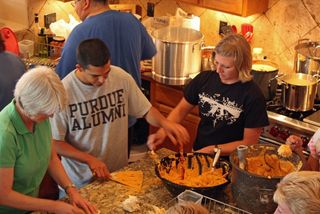 Then you put the meat on. Everybody brought some meat. I think we were all supposed to follow the recipe, but I know for a fact that Frank, like Mario, improved on it.
Then you fold them up. 
And wrap them in wax paper.
And somebody has to hold them in the pan – I got this important job for a while.
And then you cart the pans away – we made two freezers full of tamales!
And don't forget to have an occasional beer to keep you going.
And Mario's wife was busy the whole time making the most delicious beans and rice to eat with the fresh tamales. Oh, and guacamole. She makes a mean guacamole.
We wrapped up the afternoon with a birthday party for the Japanese exchange student staying with one of the families. (This was our two year old's favorite part.)
She got some help blowing out her candles.
It was a great day and we have some awesome tamales in the freezer to prove it.